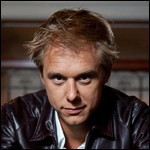 Die 450. Episode der erfolgreichen Radio-Show von und mit Armin van Buuren wird dieser Tage gleich in fünf verschiedenen Locations quer über den Globus verteilt zelebriert. Wie praktisch, dass nahezu zeitgleich auch das 2010er Update der gleichnamigen Mix-CD Reihe in den Läden steht! Am erfolgreichen 2CD-Konzept "On the beach / In the club" hielt man auch in diesem Jahr fest und präsentiert in gewohnt hoher Qualität einmal mehr aktuelle und teilweise bis dato unveröffentlichte Tracks in zwei sauberen Studiomixen. Mit dabei ist auch Armins aktuelle Single "Aisha" (unter seinem Pseudonym Gaia) sowie sein aktueller Remix zu Faithless "Not going home". Auch der Rest der Tracklist kann sich sehen lassen: Andy Moor, Roger Shah, Arnej, Max Graham, Myon & Shane 54, Mat Zo, The Thrillseerks und viele weitere namenhafte Künstler sind mit ihrem Releases auf dieser Compilation vertreten.
CD 1 (On the beach):
[01] Susana feat. Omnia & The Blizzard "Closer"
[02] Luigi Lusini "Who we are"
[03] M6 "Days of wonder"
[04] Mat Zo "Near the end"
[05] Monogato "Sincere"
[06] Ron Hagen & Al Exander "Last minute"
[07] The Thrillseekers "Savanna"
[08] Orjan Nilsen "Lovers lane"
[09] Beat Service feat. Emma Lock "Cut and run"
[10] Tenishia feat. Aneym "Stranger to myself" (Tenishia's Burnout Mix)
[11] Andy Moor feat. feat Carrie Skipper "She moves"
[12] DJ Governor "Shades of grey"
[13] Myon & Shane 54 feat. Labworks "Ibiza sunrise" (Classic Dub)
[14] Andrew Bennett feat. Sir Adrian "Run till U shine" (Cosmic Gate Remix)
CD 2 (In the club):
[01] Velvetine "Safe (Wherever you are)" (Rank 1 Remix / AvB Intro Edit)
[02] Faithless "Not going home" (Armin van Buuren Remix)
[03] Gaia "Aisha"
[04] Arnej "The strings that bind us"
[05] Eco feat. Lira Yin "Love" (Dub Mix)
[06] Roger Shah & Signum "Ancient world" (Roger Shah Long Haul Flight)
[07] Jer Martin "Ten minutes to midnight" (Club Mix)
[08] Dreastic "Spirit"
[09] Ferry Tayle & Static Blue "Trapeze" (Daniel Kandi's Emotional Remix)
[10] Max Graham feat. Neev Kennedy "Sun in the winter" (Alex M.O.R.P.H. Remix)
[11] Sebastian Brandt "450"
[12] Thomas Bronzwaer "Collider" (Jorn van Deynhoven Remix)
[13] Ehren Stowers "Ascent"
[14] Robert Nickson "We won't forget"
[15] Simon Patterson "Taxi"
Natürlich ist die ASOT 2010 auch wieder so etwas wie eine Armada Music Werksschau: der Löwenanteil der Tracks kommt von den hauseigenen Sublabels wie Magic Island, Ava, Coldharbour, ASOT, Armind, usw. – und das demonstriert erneut die aktuell vorherrschende Dominanz des niederländischen Label-Verbunds. Bleibt abzuwarten, wie andere Branchen-Größen wie Anjunabeats oder auch Black Hole Recordings reagieren werden. Letzteres Label hatte ja unlängst mit "Once upon a night" (mixed by Ferry Corsten) vorgelegt und kündigte nun die Volume 8 der legendären "In Search of Sunrise" (dieses Mal mit Richard Durand als Ersatz für Tiesto) an.
weiterführende Links:
» Armin van Buuren – offizielle Webseite
» [Mix-CD] A State of Trance 2010 – Thread bei tranceforum.info